そしてCheltenham は、2014年のクリケットフェスティバルがまもなく開催されるんですよ!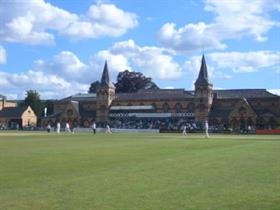 Brewin Dolphin Cheltenham Cricket Festival
Cheltenham College
Thirlestaine Road
Cheltenham
Gloucestershire
GL53 7AB
Tel: 0117 910 8010
OVERVIEW
FACILITIES
LOCATION
The Brewin Dolphin Cheltenham Cricket Festival is one of the most loved events in the social and sporting calendar. The idyllic setting of Cheltenham College provides the perfect backdrop for cricket at the height of summer.
Brewin Dolphin, one of the UK's largest independently-owned private client Wealth Managers, has been the Festival's principal sponsor since 2012. They have been involved with Gloucestershire Cricket for over 15 years, supporting the Club and its development.
Gloucestershire have been playing in the stunning grounds of Cheltenham College for over 140 years, making this the world's longest running cricket festival on an outfield. The ground's idyllic setting has provided a perfect backdrop for the Festival throughout its history, a great attraction for cricket fans, new supporters and big cricketing stars.
The 2015 festival saw over 20,000 people attend over the two weeks and we would like to thank everyone who came along and was a part of it.
The 2016 festival is one of the most exciting yet and for the first time international cricket will be played at the historic ground. Supporters can look forward to, two Specsavers County Championship matches, one NatWest T20 Blast, Two Tourist matches including England Lions and one Royal London One-Day Cup match.
Wednesday 13 – 16: Gloucestershire v Essex – Specsavers County Championship
Sunday 17: Gloucestershire v Essex – NatWest T20 Blast
Monday 18 July: Pakistan A v Sri Lanka A – Tourist match
Tuesday 19 July: England Lions v Pakistan A – Tourist match
Wednesday 20 July: Gloucestershire v Leicestershire – Specsavers County Championship
Sunday 24 July, Gloucestershire v Sussex – Royal London One-Day Cup
To purchase tickets for the Brewin Dolphin Cheltenham Cricket Fesitval please click here.
To find out about our hospitality packages for the festival, please click here.
Opening Times
Brewinドルフィンチェルトナムクリケットフェスティバルは、イギリスの人気スポーツ
のクリケットのイベントです。
チェルトナムの牧歌的な風景のもとおこなわれる歴史的なイベントです。
夏のイベントとしても毎年人気のイベントとなっています。
なんとこの地で140年という長い間行われてきたお祭りです。
全国からクリケット好きが集います。
昨年は、2万人以上の人が2週間中にこの地を訪れました。
とってもエキサイティングで白熱した試合が行われます!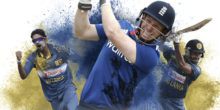 予定:
Wednesday 13 – 16: Gloucestershire v Essex – Specsavers County Championship
Sunday 17: Gloucestershire v Essex – NatWest T20 Blast
Monday 18 July: Pakistan A v Sri Lanka A – Tourist match
Tuesday 19 July: England Lions v Pakistan A – Tourist match
Wednesday 20 July: Gloucestershire v Leicestershire – Specsavers County Championship
Sunday 24 July, Gloucestershire v Sussex – Royal London One-Day Cup